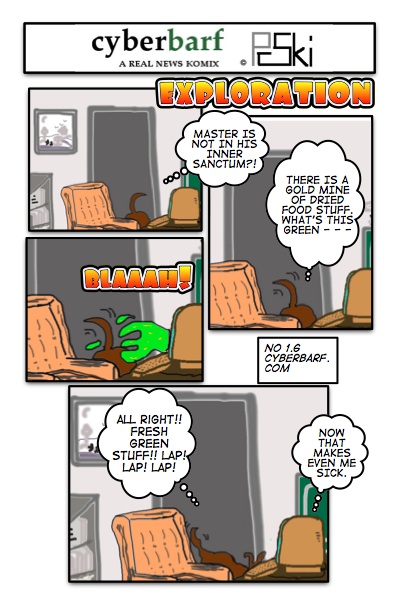 cyberbarf
THE WIDE NET STATUS ALERT
The circumstantial evidence for the next Evil empire is growing with the relevation that Google's alleged invasion of privacy. Google has spent the last three years collecting photographs for their street scape feature for their mapping program. There is nothing wrong with taking pictures from a public place with the subject being in said public space. There is no expectation of privacy in that situation.
But it has been widely reported that when Google was making its street pictures, it was also collecting data on nearby home wi-fi networks. Specially, it has been alleged that Google was searching for Macintosh home networks, and was data mining those households without their knowledge.
Besides the moral hazard of collecting data to prepare a Mac-centric marketing list for sale to third parties for profit, the allegations also show another disregard for personal privacy and possible illegal diversion of personal electronic information (wi-fi signals). Google's response was that it did not know that was happening. It would stop the data collection.
This is a similar "my dog ate my homework" excuse from the company that wants to dominate the global information market. It was the same excuse when it started digitizing the entire local library, copyright holders be damned. Google may be testing the boundries of the internet's early principle that everything on the net should be open and free (which led to the intellectual property erosion of Napster and plageristic news sites).
Critics fear that Google wants to become the net's information bully. As the Americas is becoming a less manufacturing nation than a service economy, the concept of placing more value on information than tangible goods is the new profit center. The next generation may hold information like gold because they will not have the same industrial opportunities to aff value to their career work capital.
Search engines have been data mining individual key search word patterns to push targeted ads to users. Google had been aggressively selling search rankings to companies to place their names first on the hit pages. Again, critics found that hidden search results for a fee dilutes the value of the actual search results. But firms like Google continue to market its services to the detriment of the end result.
Part of the hubris is that Google was one of the few internet companies that actually made significant money from the net despite its business practices. It has billions of dollars to move its bulldozers to the next cyberspace gold mine.
cyberbarf
G4 IN THE WILD LOST TECH
Apple Computer is one of the most paranoid, secretive tech companies on the planet. Its products are kept under deep house wraps until Steve Jobs is ready to mega-market them to a foaming at the mouth general public, salivating for the next cool gadget.
When reports filtered through the Mac rumor sites that Apple had let a prototype G4 iPhone into the wild (off campus), it caused quite a stir, including a criminal warrant against a web site operator for buying the alleged lost phone for a pictorial autopsy of the device.
The story goes that a low rung Apple tech brought the new toy with him when he went bar hopping near the corporate campus. Someone found this new smartphone at the bar. Stories divert here: one claims that finder tried to find the owner but had not luck; another claims the finder looked to make a quick buck off someone's bad fortune. No matter, the finder sold the lost phone to a web operator for $5,000.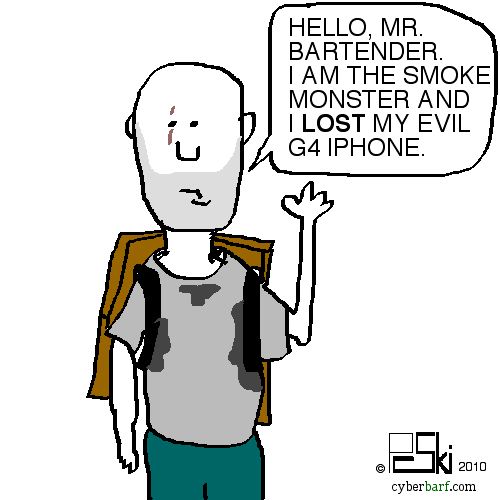 For its find, the operator, Gizmodo, got a world wide exclusive news story. And it also got its reporter a criminal search warrant for three alleged felonies, including receipt of stolen property, which then included the seizure of all his personal computers. First Amendment advocates were upset that a reporter's house was ransacked with a search warrant related to the publication of a news story. But Apple has a history for being relentless with trade secret breaches.
The whole incident sheds light on several topics: the (lax) security of prototype devices, lack of common sense when dealing with trade secrets, checkbook journalism, criminalization of reporting, and overzealous prosecution on behalf of business interests. No one in this story is going to get any good public relations from their actions.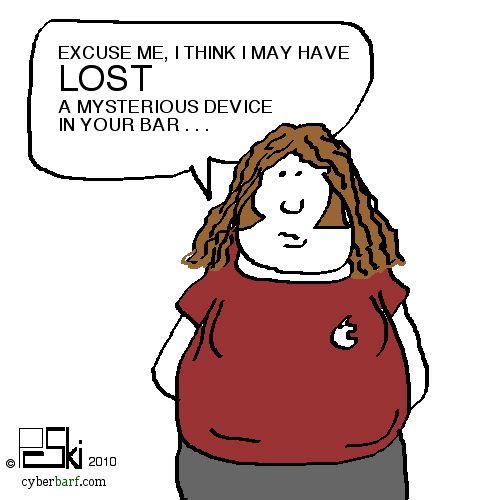 cyberbarf
COMPRESSION FUTURE SQUINT
Multitasking has become so common place that most people take it for granted in their daily lives. The idea of doing several things at the same time is thought to be a enlightened way to maximize one's time. There was an old, derogatory saying, "can you walk and chew gum at the same time? Researchers have found that in reality, human beings can only do two things at the same time.
The study was from the backlash of automobile drivers talking on cellphones while driving down the road. They found that human beings have two brain halves. Old medicine speculated that one side was intellectual and the other creative. But in this study, it was found that there was no generality; subjects could concentrate and function when stimulated by two things. It seems that each brain half can handle one function. Example, people who have background music while studying are handling two tasks. But if you add in a third element, like talking on the telephone, the human brain gets mixed up and cognitive behavior is reduced.
Now, we have all seen people on the morning expressway doing some crazy stuff, like driving while talking on the cell phone and eating breakfast. They must be steering with their knees. But in this multitasking overload situation, such a driver's reaction time is extremely diminished while could lead to more accidents. This is the reason why many municipalities have banned the use of cell phones from drivers. Any distraction at high speed is considered a safety issue.
On the other end of the spectrum, another concentration issue could be linked to the continual shrinkage of technology. Desk top monitors shrunk to portable lap top screens, which shrunk to smart phone flip screens. The video real estate is collapsing into twitter-land of a few words, letters or symbols. Instead of writing collective thoughts into even emails (teens find that too formal), the concentration factor is down to text snippets (which cannot exercise the gray matter too much).