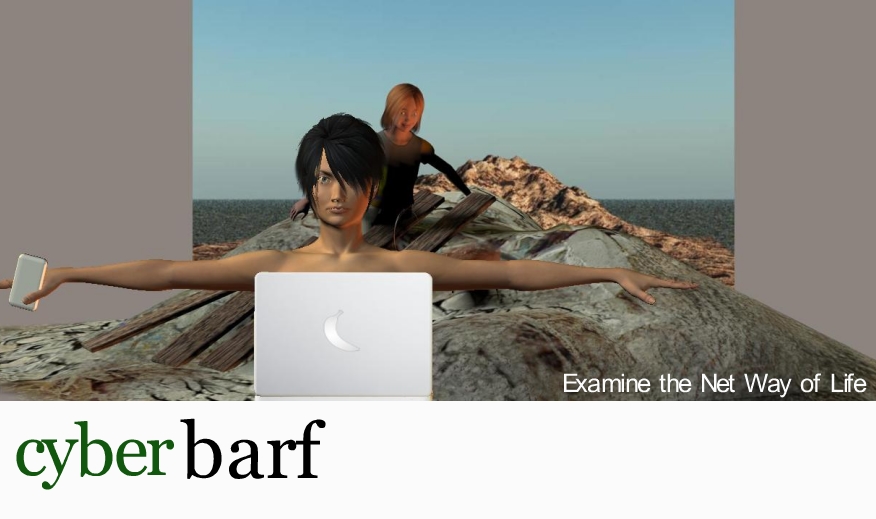 cyberbarf
IS APPLE COOKED? COMMENTARY
Apple CEO has a long way to get to the late Steve Jobs icon status. Cook had the reputation as being the logistics guru. He was able to coordinate the vast global supply chain to get product launches in sync with final assembly and shipping. In essence, he was the business technocrat to Jobs tech-visionary status. As Jobs had a harsh public persona of a bratty perfectionist, Cook was viewed as a more reserved, pragmatic consensus builder. In each Jobs leave of absence, Cook took the CEO reigns and Apple continued to hit on all cylinders. But with the visionary gone, the Apple king is dead, where will the next great things come from? A narrow minded totalitarian can make his vision a reality by getting engineering teams to buy in totally to his concept. A bureaucrat consensus builder may have too many cooks in the kitchen so the final product may come out flat.
And stock analysts and PC writers are like buzzards circling Apple for any misstep. The critics have had enough fodder to drive the Apple stock price from $705 down to $622 at the iPad mini launch. Even after another record quarter of earnings, analysts negative reaction to their expectations drove the stock down more to almost $100 off its high.
Part of the problem with Apple is that in the fourth quarter, it launched a slew of new products including the new iPhone 5, a new laptop, a new iOS and a new tablet. If inventory issues were tight earlier in the year, it has to constrict product availability and impact sales.
Cook does not have the moxie that Jobs had with the media. Jobs was the icon; Cook is the administrator. Jobs was the visionary; Cook is the logistics guy. Jobs was the general for the Apple loyal army; Cook is quartermaster promoted to field general. In order to dampen the blow, Apple's board did keep the "team" of lead designers and engineers. Even though Jobs was never a one man band, he was the cult leader who drove Apple employees to go beyond their best. it is doubtful that Cook will ever earn that kind of employee loyalty.
Cook will have to learn how to play the financial media. Wall Street traders are looking to take down a wounded company. Apple is no exception. There is always money to made from fear in the markets. So any minor miscue is inflated to crisis status.
If Cook would have used the BETA adjective to the Apple Maps like Jobs did for Siri, people would not have been so harsh. When Siri 1.0 came out with goofs, people thought it was funny strange. But they were a part of a TEST of voice recognition software so everyone was kind. They knew it would get better as time upgraded the software.
Jobs was against the 7 inch tablet space. He often said the market does not drive product development. Apple would tell consumers what they wanted; Apple created markets, even with old concepts. Apple just did things better. And people would pay a premium for the experience of no-hassle, ready to go out of the box computing on the fly. The 7 inch tablet is meant to go after the Kindle and Nook e-readers (which may be the next push in the college e-textbook market). Or it could be that the full size iPads are too big for young children to handle. On personal experience, when an older sibling gets an iPhone in a young elementary school household, the younger child will get an iTouch. It keeps the peace. And any piece of the market share is big with Apple, because once a new consumer buys one product, they usually buy four more.
Apple has continued to grow the personal computer segment, especially laptops, in a virtual silence as the media continues to focus on the patent wars smart phones and combative tablet spaces. Competitors have caught up to the technology. A full year product cycle cuts away at margins, as competitors also seek the same parts for assembly of their machines. In some respects, the new iPad mini is trying to invade other companies niche markets. Apple was criticized for a more than $100 premium over those e-readers. But Apple has always priced their reputation as a premium. And for the most part, their products work with simple ease right out of the box.
Even if the new tab is a lost leader, it drives people to the Apple proprietary cash machine, iTunes. The application store that is open 24/7 for impulse buys. But the American economy is still weak. More people have given up looking for work. The underemployment rate is around 24 percent of the work population. When a quarter of the potential market is scrapping week to week, there may be a tech sales lag in 2013. Such a downturn would hurt all tech companies, including Google and Microsoft, who are also in new product cycles.
Almost 60 percent of Apple sales are now international. China is Apple's last frontier. But the idea that China will continue to expand its consumerism by leaps and bounds is near sighted. The new Chinese middle class wants Western products. But the new Chinese middle class is getting squeezed by a weakening economy and a real estate bubble. Cook will have to use all his management skills to balance innovation to global supply and sales issues.
Financial analysts will say Apple is not the company it once was under Jobs. Any stumble will be blamed on Cook. But Cook has something his corporate peers does not have: $121 billion in cash. That war chest can erase a few stumbles, pad profits and acquire specialty third party technology.
So at the moment, Apple is not cooked; its corporate head is not even in the oven. One needs to give Cook at least a year on his own to find his own path for the company that the nation looks to to lead the next technology revolution.
He has started shaking up the executive tree. Scott Forstall, a Jobs lieutenant in charge of iOS, will be leaving the company. Many employees are said to celebrate the move, since Forstall has been a difficult manager. Also gone is the strange, less than a year hire, John Browett who was in charge of Apple retail. U.K. consumers thought his initial hiring was odd because he ran Dixon's, a UK electronics chain with a less than stellar reputation. Key core executives Jonathan Ive, the designer, and Bob Mansfield, technology, will stay on in expanded roles.
cyberbarf
SOCIAL PEER PRESSURE ESSAY
A well attended college reunion was a fun event. Many stories were told by old friends. Many pictures were taken during the weekend.
Many alums used their smartphones to take pictures. They would immediately post them to facebook or Twitter. They had trained themselves of recording their life to their on-line accounts. We could understand instant posting so other non-attending alumni could experience some of the event.
But on the Monday after the event, my friends wanted to see my photographs. Wanted to see as is NOW. A day of emails asking where the links to the pictures were was like a crack addict looking for free samples from a mule.
But posting pictures is a pain.
A small minority of friends continues to be anti-facebook. As I said, being anti-facebook does not mean anti-social. As one group says you have to join the social network scene, one other voice says hold out. I have an aversion of being data mined by smug eggheads. I still like the old fashion way of editing oneself to create content instead of a shotgun approach of clicking upload without thinking about editorial control. It was how I was trained in college.
What are the options?
Facebook is a binder of mug shots at a police station.
Flickr is something done to a cigarette butt on a street corner.
My space? Does that even exist?
I have plenty of web sites to manage as it is, but this swarm request for pictures demanded a quick solution.
So I opened a free blogspot account through Google gmail. (Again, why get another dormant email address, but such is life in the cascade of automatic log-in screens). I got a similar name for the current Real News website since this was going to be reunion-centric " get off my back I posted the pictures" short term solution.
The set up had changed since the last time I used blogger software. The templates were slightly different, and the feature set up now divided amongst various screen tabs. But navigating through the bare bones simple page design, I came upon the posting options. I let public view go through because I don't have the contact information for most of the extended college family.
Uploading pictures and making snide captions were the simple task. I decided to cull the 500 pictures or so taken during the weekend down to 159 or so. The best of album roll of duplicates, low light, uncropped or uninteresting fare - - - something that a photojournalist would do: edit for context. Propagating an email with a link to the new site was fairly painless too, because the social media butterflies quickly sent the link to their associates in an emergency call tree flash mob. But after a day, some were screaming for MORE.
To be more adventurous, I sent out a zine on the weekend. But apparently, the file was too large that it crashed several people's email server storage capacities. So, now what? Right, I have this new reunion web page. Maybe I can upload the PDF there for people with email restrictions can view it.
So I did some quick research on how to upload a PDF to blogger (which actually was out of date information), and sodded on through the set-up by establishing a virtual google drive to store the PDF, then linking the stored document URL onto the web page.
The link to a new web page was well received by the ravenous friend base. So much so that I quietly added a second PDF to the web page with a few overset photographs from the first run, and more reunion stories. I did not publicize the second edition; wanting to see how many people would stumble back and find a surprise.
So now I have another web page with active content, but with a very, very limited purpose. It may stay in a tombstone mode until the next reunion in February, 2013. But at least now I have a place to dump photographs without the need of bending over backwards to facebook or Twitter.
cyberbarf
PODCAST: SELF CONTENT CRITICAL MASS
A few years ago, we wondered if podcasting would become just another technology fad. It was not a profitable business plan. It was lost in the corners of the Internet, behind billions of search pages of information, like a dusty CB radio in the attic. But an interesting development has happened - - - a pioneering critical mass may be upon this net medium. Listen to our podcast to find out.