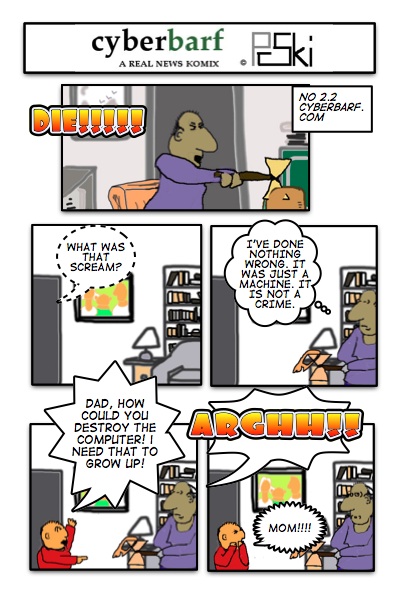 cyberbarf
GREAT AMERICANS COMMENTARY
Our collective consciousness is being over run by gossip, snark, hubris soaked morons and shallow, uninteresting, unproductive F list cable reality show losers. This passes off as modern American culture. It makes one want to crank to 11 Urge Overkill so badly that it knocks lead paint chips off the neighbor's walls.
The American Ideals seemed to have been lost in several generations' security blankets. Suffocated. Native born citizens do not remember the elementary texts of the people who made the USA the nation that other people in the world suffered in order to try to immigrate to its shores.
So, as a personal quick fire challenge, who are the Great Americans throughout history. The ones whose lasting impressions and accomplishments forged the foundation of what it was supposed to be representative of an American. Off the top of my head, I wrote down the following:
BENJAMIN FRANKLIN, entrepreneur, inventor, community business leader. His Poor Richard's Almanac sayings taught the young nation how to save, be thrifty, be trustworthy, and diligent.
"A penny saved is a penny earned," was one of his iconic American expression. His publications taught new immigrants what it meant to be part of a new nation.
THOMAS EDISON, inventor, institutionalized corporate research and development
He was the top leader in a school of thought that developed the business model of paying workers to invent things full time. And using those ideas, to build prototypes in house, and then to market the manufacture and distribution of world changing technology. R&D departments is a staple of modern corporations.
GEORGE WASHINGTON CARVER, inventor, limited education and racial barriers did not stop him from success
His work with the humble peanut, using it as a base for medical research, consumer products and agricultural technology to hybrid research in plants, was a blue print for how others could champion a cause and bring it profitably to market. He also proved that the best education was not needed for a person to succeed in America; all one needed was confidence in one's self.
JANE ADDAMS, social worker, educator, championed the absolute poverty in new industrial cities, fought corruption in city politics
She was a believer in the good that resides in everyone. She took it upon herself to help clean up the slums of Chicago when the politicians and business leaders did not care. She created her own child care facilities for working mothers, neighborhood free clinics, and educational-vocational services for the poor, all from private donations and foundations. Like Franklin, she could find a solution to community problems from within the people in community itself.
J.P. MORGAN, influential banker, financial baron, spread pure capitalism model
During his lifetime, when there was a financial crisis, business and government leaders came to him for a solution. He was the federal reserve before the US government formed its own national bank. He built up the foundation of bringing capital to business through the issuance of stocks and bonds, and taking controlling stakes in firms in order to tailor them into efficient and profitable enterprises.
DANIEL BURNHAM, original urban planner, creator of the White City, advocate of public spaces in crowded dirty cities
A man should make no small plans. It was a philosophy that a person should not accept the cards he is dealt, but strive to attain the unachievable. When he was the lead designer for the 1893 World's Fair, Chicago was merely a rough and tumble cow town. But the transformation of a swampy lake front into a glorious White City amazed visitors, and made Chicago an international city.
BOB HOPE, actor comedian, the only person to truly capture the country's sense of humor through all of its entertainment developments: vaudeville, film, radio, and television.
For anyone under age 30, Bob Hope is a mystery. He started his career in low budget traveling vaudeville stage shows before the advent of electronic media. He then made the transition to radio, film and television, retaining his audience and growing to become America's most recognizable comic. His wit and one liners became the standard fare for stand-up routines. He was also a smart business person, using the immigrant ideal of owning real estate (usually prohibited in their old countries), Hope amassed thousands of acres of California property and became a wealthy multi-millionaire in the process (also the immigrant's vision of the American Dream.)
WILLIAM RANDOLPH HEARST, premier tabloid journalism publisher, only private citizen to actually push a national War upon the government through public opinion
In the days when cities had tens of daily newspapers, Hearst used sensational headlines, crime stories and celebrity scandal to sell his papers on street corners. When radio and television started to appear on the scene, journalism took a more professional approach to retain its readership. But in all cycles, when professional journalism has hit bottom, it is the muckraking, sensational gossip driven scandal tabloid weeklies and internet snark sites that have copies the Hearst plan to get publicity, even at the cost of credibility.
JONAS SALK, medical researcher, who developed the polio vaccine
Most people fail to realize that science has only "cured" a handful of diseases. One of the most feared diseases of the 20th century was polio, which had crippling effects on children. Salk pioneered the medical research protocols which led to a polio vaccine. The work of medical research to find cures to disease has been side tracked by big pharma firms who use the research and development of new drugs to treat symptoms (to make money off the patents) rather than finding real cures.
RICHARD SEARS, catalogue merchant, who developed national retail model, and customer is always right philosophy which motivated the backbone of today's consumer driven economy
Sears, Roebuck & Company sent out catalogues across the country and guaranteed customer satisfaction. People stuck in rural areas suddenly found themselves being able to buy merchandise unavailable in their rural towns. This spread the concept of a consumer driven economy. America is a place of buyers and sellers, and the clever advertising towards women and the new convenience of modern appliances, solidified the family purse strings would be used in department stores. Today, most large merchants do not view customers in the same way; people are seen now as a commodity.
HENRY FORD, inventor, businessman, who harnessed the technology of the industrial age into practical standardized assembly factory systems with livable wages to foster a sense of blue collar middle class work ethic
His automobile truly was the second American revolution because it embodied so much of the new American Industrial spirit: standardization of parts, mechanized assembly, a living wage for his workers (so they could buy the product they were making, thus increasing sales) and the flow chart of the ballet of efficient assembly from suppliers, inventory management, production and sales. The American love of the automobile spawned the embodiment of personal freedom. Our society became a mobile one; with a change from agricultural to people moving to cities to do factory work. And if some one did not their lot in life, they could pack up and drive to a new destination to start all over again. America gave people not one, but many opportunities.
What do these people have in common. They were inventive; the mark of being American is unlimited creativity. But with that open sense of trial error, it was okay to fail. In autocratic societies, that was not the case, so creativity was muted. They were also strong willed personalities. Individuality and a clear sense of self (not what other people thought) helped define their personal outlooks on life. They believed in the private sector, business and charity, as the solution to the ills of society. They knew that their direct actions had more impact than indirect action through bureaucratic systems. Real change can only come from the freedom of individual opportunities. They all created lasting institutions through their intelligence, street smarts and their own sweat equity. Risk and reward decision making in the foundation for any businessman. Americans were great builders, of both tangible things (advanced rocket science technologies) and intangible ideas (like democracy).
Many of these Great Americans ideas and ideals have been lost in the modern counterparts.
cyberbarf
DATA MINERS HARD HEADS
The dead tree media (newspapers, magazines) have had a tough decade. The Internet brimming with free news and information (some pirated directly from news media sites) has been the death knell for an entire industry. Paid circulation was driven down. Then a bad economy cut advertising sales. Then cheaper, targeted Internet advertising sites cut old media to the bone. Revenues have been in steady decline.
Enter Apple's new tablet computer, the iPad. Publishers had hoped that it would bring back readers to a subscription based digital edition platform. Young consumers now get most of their news, information and entertainment from an electronic device. In order to have any future significance, old media publishers have been told that they need to change with the times. The horse was out of the barn long ago when the same new media consultants told the old media CEOs that they needed to jump in full bore with web sites that mirrored their news publications. Simultaneous platforms with the same content would increase circulation, because click ads were the wave of the future. It did not come to pass. Traffic was there, but truly significant advertising revenue was not; so in the end, old media trained new consumers to expect free content. And that is a losing business model.
So Apple's new hip and cool eReader could turn around the misfortunes of the old media conglomerates. Apple has opened an iTunes like section for books and periodicals in its App universe. But the big publishers are having issues with the way Apple does business.
Apple has strict policies in regard to Applications that data mine their customers. Cookies have been the bane of the browser world since the beginning of Internet time. Apple is looking out for their fan base against companies who secretly profit from recording the mouse clicks of consumers. The publishers want to have those tools available to them. It means that publication advertising just will not cut it. It means that in order for the free content demand to actually generate enough revenue, publishers need to be stealth information thieves, repackaging data to be sold to third party marketing firms.
It shows that the main focus of publishers is not on the content, but on the electronic data mining back end. It is more profitable to data mine than making publications that people will buy directly from the digital book store.
It is a sad day for the mainstream media when its survival plan is to secretly data mine its readers.