cyberbarf
iPHONED REVIEW
When the original RAZR flip work phone began frying its battery, it was time to think of a replacement cellphone. As a person who uses his phone infrequently and only for office calls or emergencies, the landscape of replacement products could have been daunting except that the office carrier now supports the iPhone. It was not hard to push an Apple product on a person who macintoshed his business in the 1980s into an iPhone upgrade.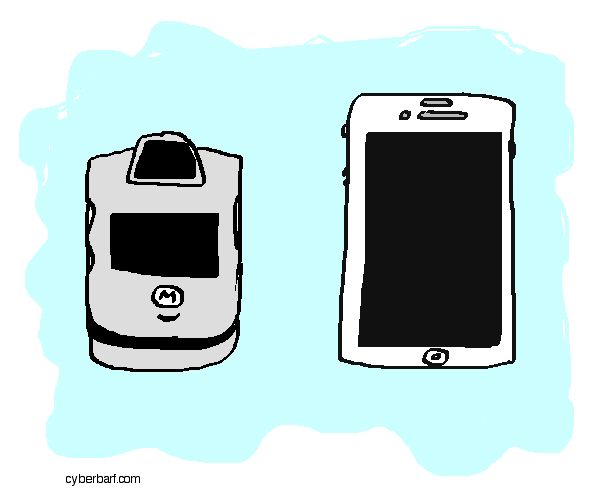 It was a question of timing. The reports and rumors of the new iPhone 5 coming in the fall made potential purchase something one might put off in anticipation of the Next - - Greatest - - Thing. But after two weeks of not having a cellphone, it was decided that the time was put off too long since the concept of a public pay phone has been lost to the ages like raptor dinosaurs.
Once you see an iPhone, you can immediately see why people react like it is their new girlfriend: thin, sexy, bright, responsive.
The most noticeable thing with the iPhone that it is heavy - - - in a substantial, solid feel. You can tell that this machine has a even weight distribution computing core without even turning it on. Without any instruction, it is intuitive to use (a Steve Jobs utilitarian trademark for all his lifestyle devices and user interfaces).
The home button is responsive and the boot instantaneous. The settings menu is simple and straight forward (including finding Location Services to turn OFF). Adding family phone contacts was a breeze. If you set the phone on a flat surface, you can type on the keyboard faster and crisper because the iPhone heft and glass screen creates a stable base. Once you remember you subaccount name and password, it is easy to set up an email account. The standard home page widgets are clear to understand, but for a low activity user who is not tethered 24/7 to his phone, probably will be lonely icons. The responsiveness and screen switching is fast and clear. There has been no lag time, even when surfing web pages.
It does take a little time to get out of the flip phone answering call routine when the iPhone rings. The quick menu that includes a speaker phone on/off feature is essential because at times the speaker gives better clarity. Making calls from the contact list or the keypad is seamless.
One can see why Apple engineers leave these prototypes in bars or restaurants. The weight and size makes it a little bulky in a jean pocket (especially if one has coins or keys in the same location). So, quickly the habit is to set the phone down on the desk in standby mode. A precut film shield over the screen was a free feature from the carrier which probably makes sense. Also the rubberized sleeve insert to a hard cover case as extra protection was also a nice extra from the carrier.
Once up and running for the first week, it was clear that my business email account suddenly had more spam (probably from my carrier's affiliates). A lot more spam. Monty Python sized spam-a-lots. Also though the internet is responsive through Safari, the screen size and mechanics to search for information was a little cumbersome. It is probably something one has to get used to from dealing with quick point and click responsiveness of a full screen desktop iMac. Those are only two minor complaints with the device.
We will also see how well and efficient the data service will be as time goes by. The hidden cost of smartphones and their carrier tariff charges will be something to see when the first billing cycle is completed. But it is clear that the iPhone is the gold standard for smart phone interface technology.
It can be easy for a person to become addicted to a phone like this one. In the palm of your hand, you have all the means and power to communicate - -- phone voice, text, email, and video chat. Plus, the world wide web is also at your finger tips. And when you are bored, a blizzard of games is available at the integrated App Store. The only thing the iPhone cannot do yet is one's laundry.
cyberbarf
NARROW BANDWIDTH CYBERCULTURE
A recent study by the cable industry found that watching television is still the number one activity for Americans, who average five hours of television viewing per day. This is more than social web surfing, texting and facebooking combined. But the odd thing about the study was that even though Americans may have hundreds of cable channels to choose from, the average viewer on a yearly basis only really uses/watches 18 channels.
When television first started, there may have been one or two local television stations. Then the growth of a national broadcast network founded three core channels: CBS, NBC and ABC. Just as cable television was beginning its inroads into suburbia, a fourth network, Fox, emerged to take on her weakened sisters.
In order to verify this study, each person should pull out their latest cable card and run through the channels and check off which ones you watch regularly. We suspect that you will have a hard time getting to 20.
People are creatures of habit. Early network executives knew that when they scheduled their programming. Popular family shows led off the evening's viewing because once people started on that channel, less would move away to other stations. Block programming was meant to keep the family television set locked into the same station day in and day out (remember, this was before the advent of the remote control.)
Viewing habits are a conditioning program. Once in a pattern, any pattern really, it is difficult for a person to change that habit. It is not that our genes are inherently lazy, but people do tend to take the path of least resistance. And television viewing normally is not a life and death priority, so shifting brain filler from established channels and favorite show types is hard to do.
And the pattern holds up to for the race car driving remote control jockey. You can smash through all 250 channels with the consistent churn of a Olympic rower, but in the end, you will see all your potential options, but most likely will fall back onto one of your 20 favorite channels until the next half hour channel clicking blitzkrieg.
You can apply this study question to your Internet usage, too. Individuals should open their bookmark menu and go through it to determine which sites they still continually visit on a daily or weekly basis. We suspect that there will be significant less YES check marks on the links than the list itself (and probably more than a handful will no longer be in existence or tombstoned).
Your Internet viewing activities is just another brain mod conditioned upon pre-existing habits at work, school or home.
cyberbarf
THE END OF VIDEOMUSE R.E.M. SLEEP
Opportunity can be described as the intersection of circumstance and destiny. How one deals with this crossroad of talent, fear, expectations and grinding failure is a life's epitaph.
Thirty-one (31) years is a long time in any endeavor; let alone for a musical group. Musical tastes change as fast as fashion fads. One can best define one's personal music as the bookmarks of one's memories. The Athens, Georgia group, R.E.M., was the song posts for many in the post-MTV video era that began in 1980. The three remaining original members disbanded last month in a simple announcement on the band's web page. There was no fanfare, no final farewell tour, no giant hit single racing up the charts; just as the music industry has had tectonic changes since their first album, Murmur, to their last, Collapse into Now, to the mainstream whisper "were they still around?"
MTV launched with any kind of British pop video or garage band hook line it could find. In the early days (before the reality programming tsunami), the only way for a new group to make it was to have MTV play one its songs. The prior path to stardom was usually paid by endless small club performances (where the naive forget to get paid before taking the stage then getting ripped off by the venue) and college radio demo airplay. If one was lucky to find a label's A&R man to sign away their publishing rights in exchange for an advance against a massive recording debt that may never be repaid, then a band could be on their way to one-hit wonder status, and 15 minutes of rock fame excess burnout (see, most episodes of Behind the Music). But R.E.M. avoided many of the pitfalls of their early 1980s brethren.
Instead of being molded into a Top40 pop hit machine, R.E.M. never wandered too far from its quirky roots. Being from the south, there were no loud chords of southern rock; there were no instruments of classic rock, but used classic instruments like mandolins. The sum of its parts was a unique style for its time: a southern Goth-pop genre that filtered politics, social issues and culture into the melodic songs of its discography.
Some believe that the band peaked when original drummer, Bill Berry, left the band due health issues in 1997. A reported pact that had the four members only being R.E.M. Was broken when the remaining three, led by singer Michael Stipe, continued on playing to sell out concert crowds. The second half life of the band was in reality a slow fade to black. Times began to change and people used their Internet connections and iPods to download and to program their own catalogues. Economics of $100 concert tickets narrowed the audience for touring bands. New reality style pop divas took the mainstream media attention away from established artists. After time, Peter Buck, Mike Mills and Stipe started to work on their own personal projects so the eventual calling it quits was drawing nearer on the horizon. It is just hard to believe that the decades have passed so quickly since one heard their first song on the FM alternative rock radio station. The band began as the vinyl record business faded away towards tapes then to CDs then finally to the current download era of music.
The announcement of the end came about as quietly as their haunting ballads. Just as the first LP was called Murmur, as in a faint whisper, and the last heavily defined by a Collapse, quick fall from within, there is poetic symmetry in the end. A few Internet news sites had a short blurb of the web page announcement, and few music free weeklies wrote a few paragraph reflections if their critic was old enough to remember when Ronald Reagan was President. And that is how much a disposal commodity music has become in the American entertainment landscape.
However, the best obit for any long standing, influential American band is to put a BEST OF CD into the player and remember.