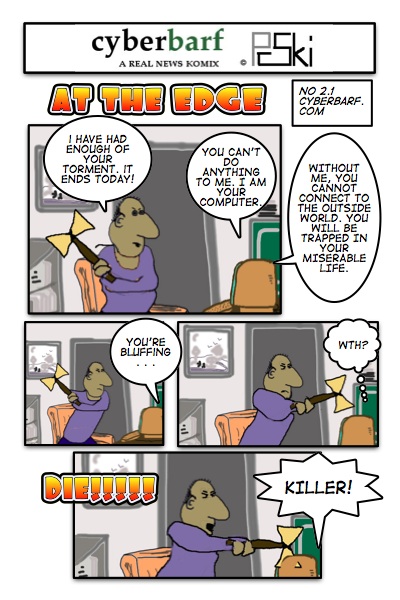 Ski has had quite the summer. He has several tales of technology frustration to share with the readers, who like to grin at his trials.
cyberbarf
RESTRICTED INQUIRY
RESTRICTED popped up on the cell phone as it rang. Click on Connect, and nothing. What the heck is happening?
What does that mean? Who is restricting a call to me? And why was there no actual phone call on connection?
It appears that this message is happening more and more. Currently, there are 300 million cell phones in America. That is one cell phone for every man, woman and child in the United States. That is like every person having a third arm appendage.
Now, the do-not-call list restrictions was recently lifted to allow robo-calls and marketing firms to dial up cell phone users. I have actually received one Voicemail marketing pitch with faux promises of winning something. Erase. And aggravating since I use my cell phone really only for emergencies.
If it was a marketing call, then you would think they would want at least a connection to talk to an operator or leave a recorded advertisement in your ear.
However, teleco boards indicate that a Restricted call means that the caller is blocking its ID and telephone number from the receiver's caller ID. There could be some gray area marketers who do not want a trace back. But the dropped, non-call is annoying mystery.
It could the auto-dialer. Some marketers, especially political candidates, have automatic telephone dialers than dial ten numbers at a time, and cut 9 off when the first number connects. Instead of an operator having to dial ten different numbers, a machine speeds up the process and in theory, increase the amount of connected calls.
Then, it could be the cell towers or telecos randomly pinging phones that are on standby. I can't imagine a purpose for this unless it is to add minutes on customer accounts. Maybe it is some spyware.
No matter who or what is making the Restricted call, it is frustrating that no one really knows what it means. It is annoying to get one of these calls. It is also a concern what is the purpose, whether it is trying to breach some level of security.
So we have the usual suspects:
The telephone company sending out random calls just to make customers go nuts.
A governmental black op group, Men in Black, who have nothing better to do but make crank cell calls.
Shady telemarketing companies trying to get under the radar and into one's cell phone voice mail as an missed message.
Aliens trying to contact their orbiting mothership by using cheap phones from the local Crappy Phone Shack.
cyberbarf
SNAIL LOADS NET-WAIT
It may be the upgraded browsers. It may be that this summer more students stayed at home on line then going on vacation or the beach. It may be a combination of poorly designed (overloaded featured) web pages and really slow servers. It may be just a traffic jam on the network. What the cause(s), my web pages are loading like snails crossing the street.
Many of the spinning mouse arrows are described as "trying to find ad server." More and more sites are not using static ads. Video, motion, pop up, animation crawling across the screen . . . those programs are slow to send and start. When I say slow to start, I am talking with a T-1 fast connection. It seems like minutes before a complex page will load (my brain times out in anger before actually putting a stop watch on it).
If it takes too long, or the connection freezes, then its X, cancel page button. It hard times, it may be a force quit. You have to keep the cussing at the screen internal if you are at work.
With the growing number of affiliate advertising links, and apparently not enough servers to send ad content to meet page load demands, web designers have to begin to rethink their concept of loading a page with an entire row of video ads if none will load before the user bails on the site. It defeats the purpose of page views if the user can't view the pages.
Maybe mainstream system ops can learn something about file sharing from the underemployed Torrent streamers. They seem to get their files transferred at lightning speed, ahead of the cops and RIAA investigators.
Data is no longer a fluid commodity on the global network. It has become a fossilized mountain of information, discarded information, landfill type old information, and heaping compost of bad information. One still needs to bulldoze through the piles of mountainside rubble to get to your wanted pages, through the bytes or pebbles of information packages thrown around the network like a landslide blocking an interstate highway at rush hour.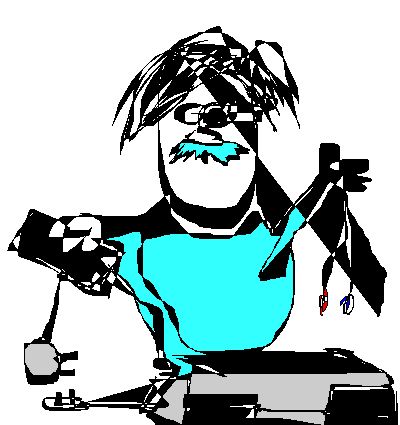 cyberbarf
DIGITAL CABLE UP THE GRADE
You got the phone messages. You got the mass mailing. You finally got the blue screen of death warning that this channel is no longer available without a digital converter cable box. If you have any extended basic package, you needed to contact the carrier to get the new equipment installed to your television.
Analog signals to digital signals; the promise of crisper pictures and more channels. In February, when the over the air stations were mandated by the FCC to convert, those over the air converter boxes are like old UHF antennas . . . depending on your location, weak signal boxes can happen more than the old analog channels. There is always some pain in any technology change. When I converted a spare non-cable TV to digital, I lost one local network channel, one PBS station, and found that my residence is just outside the broadcast pattern for both Chicago and Milwaukee digital airwaves, so more blue screens or fuzzy jumpy pictures than actual viewable channels.
So the second household conversion was bound to have a misfire.
Three options were presented: an installer (with potential fees), cable delivery of the equipment package (with delay in time), or going to the local cable office to pick up the equipment to install yourself. The latter option was chosen because it was nearing the change over deadline.
You go to the office in a light industrial area. You go into a doctor's like small waiting room, where there are fellow vagabond cable customers with return boxes and issues. After giving the account phone number, the employee calls up the account on his slow computer. How many boxes do I need? One. Oh, he says, then I can give you an adapter to keep your channels. He hands me a cellophane wrapped radar detector size device, and a remote control, and a photocopies flyer with minimum instructions.
There was another decision to make: the current cable goes through an old VCR to an old cable ready dinosaur television set. I had been thinking for a long time about upgrading to a DVD/VCR combo player. So I decided it was time to upgrade so I went out and bought one of the few remaining combo drives at the electronic store.
I unwrapped the device. Assembled in China, it felt light and cheap. I installed the adapter to the new VCR, followed all the color leads, and plugged in the box, then called to "activate" the box. Everything is set to channel 3. Is anything happening? the operator asks. NO. She sends a signal again. Nothing. "Well, you must have a power problem with the box. You will have to return it." Great.
So I turned into one of those returnee vagabonds, this time behind a longer line in the lobby. I returned the device wrapped in its own wires. The employee said he is out of those devices. So he decided to give me a box which contained a converter (which may or may not be the same thing as a adapter.) So I take the new digital hardware back home to try again.
I found I had some auxiliary wires from my new VCR, so I decided maybe it was time to check out upgrading the TV before installing this new system. So off to the discount department store, where there was a sale on a 22" flatscreen for two bills. The resolution was better than the old TV, but the old TV had a larger screen. But the price was right, it contained a digital tuner, a warranty . . . so after a half an hour of the salesman trying to find one in stock, I walked out with the final piece of the digital TV puzzle.
Again, the hook up installation went quickly. Double check the connections. Double check the input channel. Power up. Then make the activation call to a different number. The operator confirmed the serial number of the new device, and sent the signal down. After a few minutes, a picture and sound arrived on the screen.
It only took two trips to the cable company, two side trips for new home entertainment equipment, and two attempts to get the extended cable maintained at the homestead. I can see why some people go with satellite dishes.