cyberbarf
ONLINE COMMUNITIES CYBERCULTURE
In the wild west frontier days of the Web, it was all about getting your space, building up your brand, fighting off any competition, then sell-out by going public creating a new class of silicon billionaires. In a free market society, competition is deemed good and necessary and being a fierce competitor is equated to survival.
But some of the maturing younger members of the internet, especially on streaming platforms, have found that cooperating, collaborating and sharing content is beneficial to all. The idea of creating on-line communities is not new. But in recent years, it has started to take root on Twitch and You Tube channels.
Becoming known and then well know is critical for a YouTuber who is dependent on making a living uploading content. It is hard to become a viral celebrity like Mr. Beast. The streaming world is fragmented just like the Internet itself: there are so many niche channels that there is little distinction between hobbyists and professionals. But maybe there should be no distinction.
And that is where the concept of communities comes into play. At a certain point, the collective number of viewers on a topic creates momentum that everyone can join the bandwagon because there is unlimited room in the Internet space.
A good example of this is golf videos. During the pandemic, one of the only outdoor activities one could do was play golf. It exploded in Asia with celebrities taking up the sport (and fashion) to bank on a growing trend. South Korean professional and screen golfers (especially cute women) created channels that brought in celebrity guest and high view rates. In the West, Rick Shiels is the most popular golf channel host. He went from being a golf instructor to a golf content creator because he started to make more money on YouTube. He created instruction, equipment reviews and on-course challenges that drove a loyal base of more than 2.4 million subscribers.
The golf content space has exploded with many channels such as Good Good (1.1 million subs), Bob Does Sports (a comedic average-Joe premise with 400k subs) to the point that there is now a channel just covering golf creator news and events. A reason why there is more interest in golf creator content is that these channels have collaborated with each other for content. One part would be on Shiels channel and the second part on Good Good's channel. Yes, having a likable personality helps attract and keep viewers, but the overall quality and innovation helps as well.
The space has grown so much that major equipment manufacturers have recruited and now sponsor these channel makers. They used to sponsor golfers on tour, but marketing departments are finding that a PGA tour event that draws 2 million Sunday viewers on TV does not match the aggregate total of views of YouTube golf videos. In other words, a casual or weekend golfer probably gets his weekly golf fix on streaming platforms than watching the pros.
It is the sense of viewers being a part of a community or group. The YouTube golfers look, act and sound like your buddies would if you were playing right along side them. It is that virtual friendship that is the bond that keeps view counts high per subscriber base (one of the monetization factors).
The art world is also trending toward more collaborations between art video creators. They share challenges and projects with attribution and admiration. They are both informative and entertaining which is a good way for someone who wants to learn about art techniques. Hobbyists do no even mind having their work roasted by creators.
Probably the biggest community remains the on-line gaming space. These are the cool high school group that you were not allowed to join. The game streamers began as just live-streaming their games such as League of Legends, Call of Duty or now Valorent. Game streamers themselves began to join together to have cooperative multi-player team game play. It allowed the viewers some insight into their friendships, and in return get a sense of being virtual friends with all of them. Gamers have gotten to the point of banding together and living in the same house (originally to share expenses). The aspect of them living together creates its own secondary content (their daily life interactions) which may be considered the new sit-com format for Gen Z. 100 Thieves and Offline TV are prime examples of this community blueprint in action.
Grant Theft Auto has a sub-class of Role Players who are basically creating modern daily soap operas for subscribers. Invitation only, highly modded private servers are the backbone for GTA RP to build its own world, characters and story lines. Popular YouTubers are invited into the mix as a break from their standard streams.
Even the older brands need to branch out to keep the original content beast fed. The Try Guys post-Fulmer have expanded their podcasts (which are easier to make and edit than location shoots) while the individual members have branched out to individual projects (off-Broadway, indie film directing, etc.) Each member is supportive of the others' projects. They are inventing a new style of bringing along their faithful viewers on new personal adventures.
The spirit of community appears to be thriving in the virtual world while it continues to retract in the crime-ridden real world.
cyberbarf
BARF BAGS COMMENTARY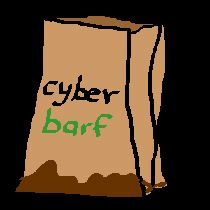 Harry and Meghan, the self-exiled British royals, have threatened to sue the South Park creators for a recent show that they claim they have not even seen. Such self-indulgence was the theme of a recent South Park episode on the attention-seeking couple trying to settle into the small Colorado town. Ironically, South Park itself has recently been missing on the entertainment radar. The weed-focused Randy marsh episodes lost some viewers who still feel the show is about the school kids and satire on current events. It is still a national sport to Royal Watch in the UK, and the local media's soap opera attention after the Queen's death has highlighted the fallacy of a monarch in modern times.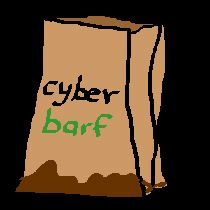 Chosun Ilbo reports that Young Koreans are among millions of Asians who have embraced the new social network app Bondee that uses avatars for metaverse communication. Unlike other social media, the Singapore-developed app limits the number of connections to 50 for a more intimate experience. In a year, Bondee has been downloaded more than 5 million times. Metadream, which created Bondee, had previously acquired Chinese metaverse app Jelly, raising concerns over possible identity theft by the Chinese government. But Bondee said its users' identities are well protected. The popularity of Bondee seems to stem from fatigue with other social media, which are increasingly being taken over by spam accounts and algorithms that push advertising. Not only are the connections limited, there is also no search function, so only invited people can become connected. 3D avatars and rooms are easy to set up from a range of options from hairstyles to skin tones and accessories, and users can also participate in virtual activities like camping, dancing, sailing, visiting each other's rooms, and even leave notes. Pop culture critic Jung Duk-hyun said, "This is the result of an increasing preference for individualism among young Koreans. Fatigue with the drive for ever bigger and more things is driving them to simplify their lifestyle." It is always the kids that move the social media needle to new applications, mainly to avoid their parents.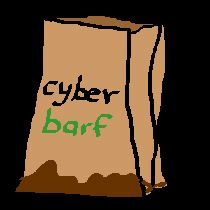 The FBI reports that Americans submitting incidents to the agency lost $10.3 billion to Internet scams in 2022, a steep jump from $6.9 billion in 2021. While there were fewer complaints (800,944), investment scams were the most common and costliest schemes. Related fraud losses jumped from nearly $1.5 billion in 2021 to $3.3 billion, and most of that value came from cryptocurrency scams - - - losses surged from $907 million to almost $2.6 billion in 2022. At the same time, FBI Director Christopher Wray confirmed that his agency has in the past purchased the location data of US citizens without obtaining a warrant, Wired Magazine reported. Privacy advocates and legal experts were alarmed by the admission. The FBI finds itself caught in an ethical and potentially legal morass.
cyberbarf
FOUND BUT NOT LOST ON THE INTERNET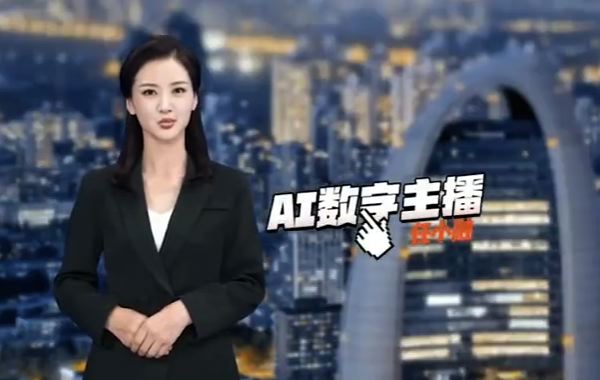 This looks like a normal screen shot of a Chinese news presenter. But it is not. The state controlled newspaper created a virtual AI driven broadcaster named Ren Xiaorong. She is programmed with pre-set questions and answers to propagate central party propaganda. The distinction between real and digital is getting blurred but the message continues to be the same.
Source: Daily Mail (UK)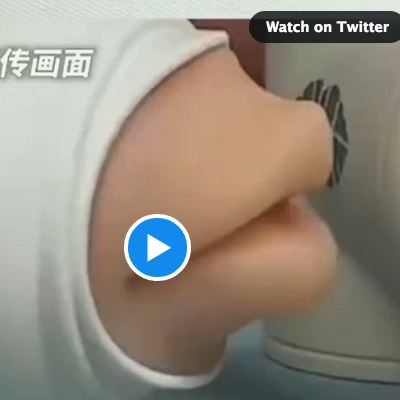 A Chinese university student created a device for long distance relationships: the phone kisser. It is a device to give a smooch to one's long distance partner. Ewww or cool? We do not know but this seems another piece of the robotic love fan fiction we dread.
Source: South China Post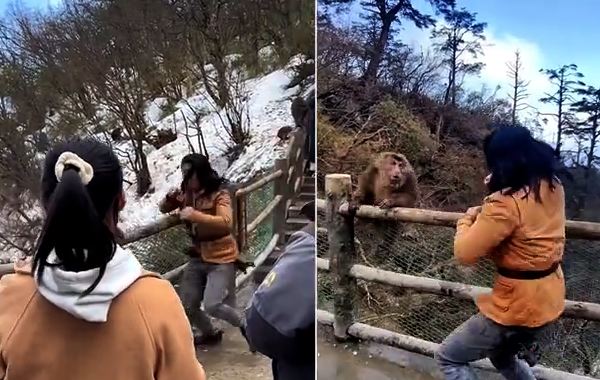 In Southwestern China, a man tried to pet a wild monkey. The monkey attacked him because most people know Asian wild monkeys can be vicious. They have know to steal puppies, climb up buildings and drop them to their death so they can eat it. Anyway, the man was an alleged martial arts fighter so he decided to punch the monkey. Punch the Monkey . . . sounds like a Peter Gabriel song.
Source: Daily Mail (UK)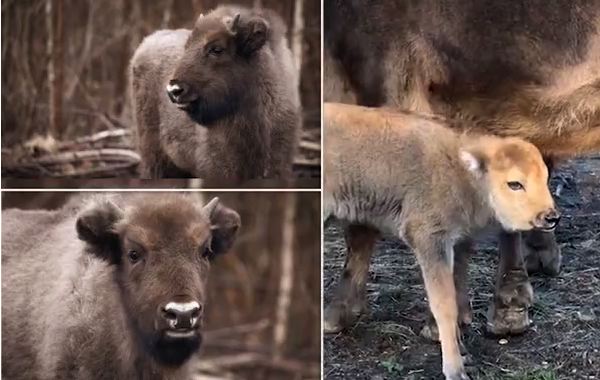 On some happier news,for the first time in 6,000 years a wild bison was born in Britain. Locals call her LIz after the short-term prime minister. The re-introduction of species is a noteworthy scientific event. But it may have unintended consequences (cough cough, revival of the wooly mammoth).
Source: Daily Mail (UK)
iToons