cyberbarf
WE ARE TURNING 22! CYBERCULTURE
In August, 2001, we launched cyberbarf.com as a monthly zine on cyberculture. Even at that point, we did not know how the world wide web would transform culture and society. We still do not know where it will lead us. But in the landscape of the past tombstone sites, dead links and tech companies failing or falling out of favor, keeping this site alive for 22 years is an accomplishment, especially for a part-timer.
Commentary, creativity and cartooning were the core features of the site. It continues to this day.
Back in 2001, we were mindful that printing was a revolutionary process back when it first began. It gave a voice to the masses, spurred education and exchange of ideas. It spurred radical change and economic development on a global scale. The internet was created in 1983 as a for interdisciplinary research.
Going from a print format to on-line was a big step in the zine world. (Does anyone ever talk about zines anymore?) Anyone could open a blog or webpage with simple and sometimes free templates. Suddenly, the small pipeline of communication turned into a planetary ocean of information, for good or ill.
"THE MEDIUM HAS TURNED INTO THE CULTURAL MESSAGE." -- August, 2001
The above quote is from the first issue. It still stands philosophically correct to this day. What were the big issues back then?
ELECTRONIC MAIL was still in its growth phase. Business no longer had to wait five business days in order to receive letters or documents. It took away the basic function of the postal service. But through swift change, more and more people use text messaging or tweets to communicate.
FILE TRANSFER was relatively new. An attachment had to be of limited size. Today, anyone can log in to download a full length HD movie. Video is slowing killing the writing stars. A YouTube or Twitch creator only has to log in or open a stream to create content. Content creators are their own studios. There is no middle man or gatekeeper for entertainment choices.
BULLETIN BOARDS were the clunky text driven sites that allowed limited back and forth between users, who had a common interest. BBS turned into chat rooms were people gathered to text among friends in a private fashion. But now social media dominates the landscape: TikTok, Twitter and facebook are the social sites for most people.
NEWS GROUPS used to be a launch pad to read news stories from around the world. The gold rush mentality of publishers to get their brand into cyberspace real estate was a high stakes gamble to get people in the habit of consuming news in both print, TV and on-line. But tech consultants were wrong when they preached giving away content for free (because more and more users were used to free content). It led to advertising shortfalls and the sunset on traditional journalism.
The Internet is a wonderful invention. It has strong utility in our modern world. But it also has its growing dark side. On-line fraud scams, phishing expeditions, ransomware cost the public billions each year. Cryptocurrency and the mining of encrypted coins went from speculative bubble to fraud investigations. NFTs were the promise of investing in art but buyers got little in return except an IP address to an image. Fad markets come and go, sometimes flaming out like a supernova. Pieces of the Internet do that all the time.
In the past 22 years, what worked? Real News Komix, cyberculture news and editorial commentary, iToons and the Whether Report are popular features. What did not work? Merch sales and business profitability because of the nature of the site and vast expanse of the web universe. It is still very hard to break-on through to the other side.
What is the current cyberbarf plan? Probably a new emphasis on self-promotion, a chance to re-work the e-store (and finding a new vendor) and create new interesting ways to tell stories.
We thank our small but loyal readership for continuing to support this site and its mission. e hope to continue to inform and entertain in the future.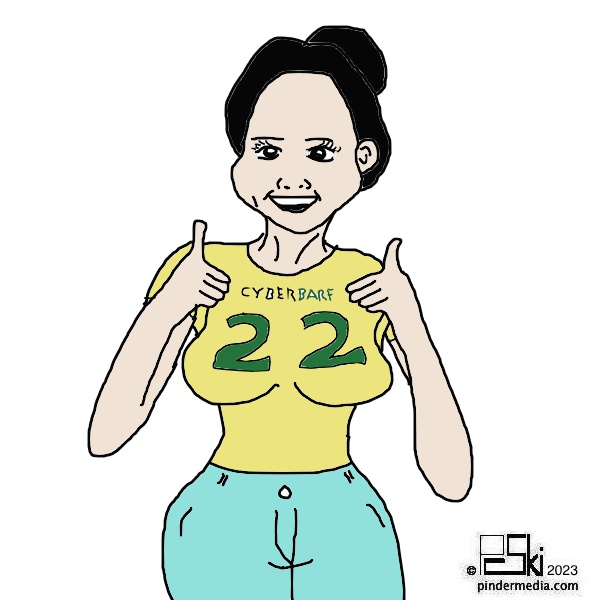 cyberbarf
BARF BAGS COMMENTARY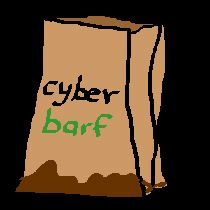 Barbenheimer destroyed summer box office records with the movie Barbie making an opening weekend take of $155 million in the US with the atomic bomb film Oppenheimer taking in $80.5 million. This was the largest gross by two films in the same opening weekend, reported the Associated Press. It is odd that a movie about a 60 year old plastic doll and a Cold War Era movie would captivate so many people. It cannot be just nostalgia.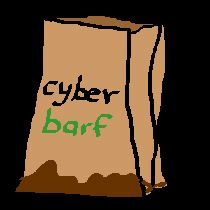 Meta (facebook) has given the cold shoulder to news publishers as it continues to block their content in Canada and Europe. Ars Technica reported the reason was simple: Meta does not want to pay news organizations who publish on their site (as required by law in the EU). This goes back to the news media trying to get the horse back in the stable after it is long gone. News sites are not generating enough advertising revenue to be self-sufficient. Most of the ad money in play is going to social media platforms like Meta. Meta can probably get away with this because its users really do not care about actual news (reliable, fact checked journalism) when confirmation of their opinions is more important to them.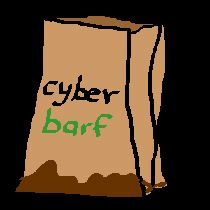 AI generator companies are banning together to create their own trade group to regulate the future of AI content. The reason is simple: if we do it ourselves, governments may stop their own regulatory efforts. This goes beyond the basic copyright litigation. The amount of misinformation generated from AI chat bots is alarming but it is still be sold as a means of streamlining business productivity. What AI still lacks in context and commons sense.
cyberbarf
FOUND BUT NOT LOST ON THE INTERNET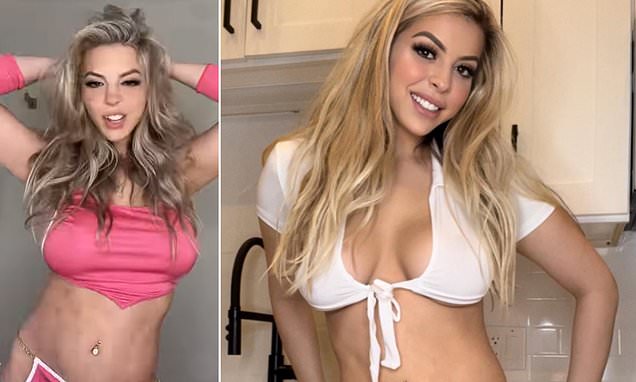 She is young, pretty and making a lot of money. Miss Madison, 30, claims she has 2,500 to 3,000 "boyfriends" and 124,000 followers on Instagram. She charges her boys $100/minute for custom videos. She claims she is making $40,000/month. The old adage that sex appeal sells continues no matter the medium. It is interesting to note that being a girlfriend can also be a commodity. Having a fake boyfriend or girlfriend is a business in Japan where people hire someone to be a couple at weddings or family gatherings to keep their parents from nagging them about settling down.
Source: Daily Mail (UK)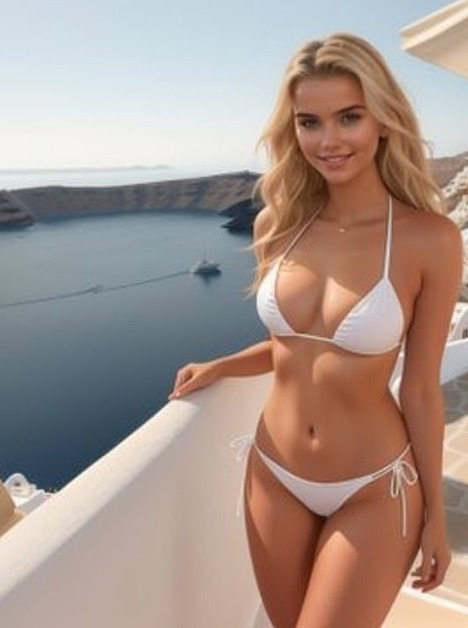 This is Milla. She is also young, cute and adventurous. She posts glamorous pictures from all over the world, including luxury boats. She is a social media influencer with 31,000 IG and 90,000 TikTok followers. Her fans really like her, but over time some viewers suspected something was off. It was then revealed that Milla was just an AI character. But many followers were fooled by the photorealism.
Source: reddit
iToons