cyberbarf
EXAMINE THE NET WAY OF LIFE
cyberbarf
MAC @ 30 ESSAY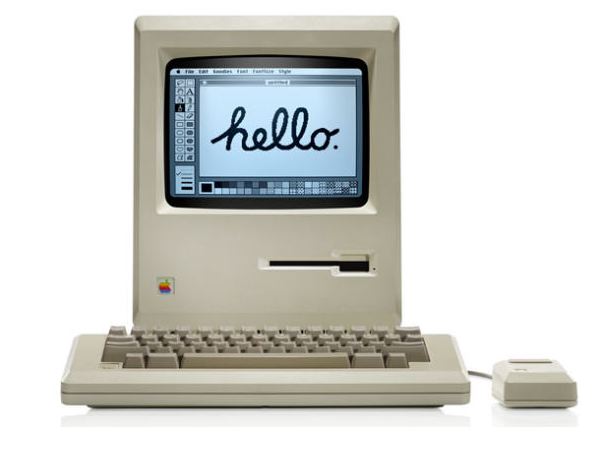 I remember walking into a Xerox demonstration room, where all the four walls were lined with state of the art computers and daisywheel printers. The new office system that Xerox wanted to sell (anyone) cost the equivalent of a small bungalow. But this was the future - - - business computing.
Then, around the same time, IBM held business seminars. The Blue Suits, as the company salespeople were known as, also had small business groups as well. They would show off the latest mainframe technology, work flow integration and lots of handout charts and diagrams. The cost of this automation was the equivalent of buying a large city apartment building. But even IBM sales force knew this was out of reach for most potential customers, but they always tagged every small business owner with the line "someday, you will be big enough to need this system."
It took a lot of soul searching to plunk down six figures to buy office computer systems when the business world still ran with electric typewriters, carbon paper, first class postage and telex/wires.
But quickly smaller systems emerged to tip toe into the work space. My office had an ALTOS computer running M/PM operating system with a rudimentary word processing program. It was attached to a large printer that was as loud as a single prop Cessna engine at full rev. The secretaries did not like the idea of command-control keys, keyboard lag, and the odd file systems. They were used to their 100 word-per-minute typing skills. Adoption by the prior work generation would be a hard sell. It is hard to change people already set in their ways.
Which is why big office equipment companies like IBM and Xerox wanted to gain a foothold in this new market. Those companies inferred that there would a technology space-race by competitors. Those early adopters would have an advantage in the marketplace as computers promised productivity and sales increases.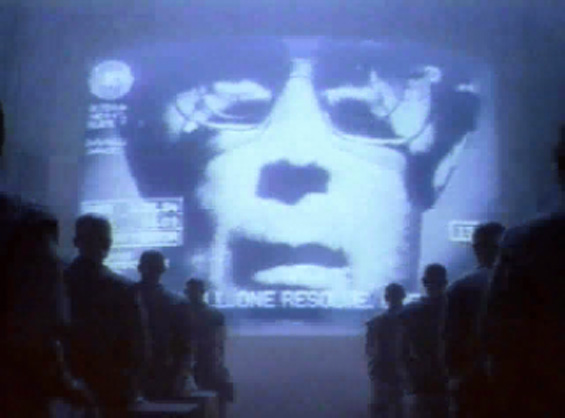 Companies with large work forces and the need for large information storage, such as banks and insurance companies, would get on board to the computerization of business. The Blue Suits slowly evolved from hardware salespeople to technology consultants and information solution managers. The data train was leaving the station, and if you were not on board, you would be left in the dust in a backwater station.
Xerox had much of the modern computer technology developed at their PARC research and development facility. But as a photocopier/imaging company, it could not integrate its core business into the new computer business model for its existing small and medium size enterprise customers. It decided there was more money leasing copiers and selling toner than building and trying to sell computer systems. IBM became the dominate player in the business world.
Even before the emergence of Big Blue, I was aware that there was an alternative computing system on the horizon. Apple Computer had taken much of the PARC research concepts and made machines that had a the first true graphic user interfaces (GUI). Knowing how difficult it was to train older workers with new technology, the Apple system promised a more seamless transition from typewriters to computer screens. Also, being a rebellious person at the time, Apple seemed to small business and creative individuals to be the anti-establishment little guy; something they could root for against the corporate giants.
But even early Apple products were too expensive to own. It was hard to justify spending money on several computers, a network and printer when the old pen and paper way still worked well. But some day . . .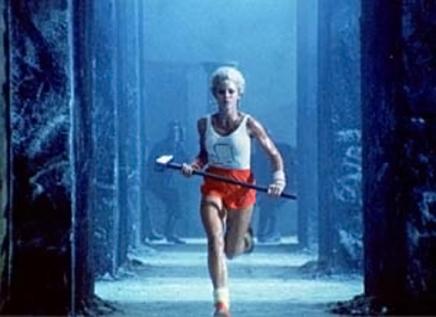 It came to the world in one thunderous Super Bowl commercial thirty years ago. A lone runner with a sledgehammer charging through a dystopian Big Brother environs set the advertising world on fire - - - and propelled Apple Computer as a buzzword for new technology: the personal computer age had arrived in cinematic style.
In the next several decades, a civil war brewed between IBM loyalists and the Apple upstarts. PC versus Mac. Both sides claimed that their operating systems and machines were better. IBM called Macs children's toys because they ran games; but in reality, the CompUSA had 100 times more PC than Mac games on their shelves. Mac owners touted that their machines did not crash as often as the blue screens of death of PCs. PCs took the look-and-feel of the desktop from the popular Mac environment which was the moment that pushed the average American into the desktop computer age. Because of this competition and bad blood, innovations in chip speeds, accessories such as networking, modems, laser printers and the communication connections like the internet and its web pages developed at breakneck speed. Today, no one is not within an arm's reach of some personal computer device, from their office computer to their smartphone.
The first Macintosh I bought was the Mac Plus. I still own it. Every couple of years, I go up to my loft library and turn the machine on . . . it still works. Even today, it is mindboggling what 128k machine could do. The new Mac Pros now talk about gigabytes of RAM and terabytes of data storage. Throughout my computer history, I have had to work with PCs, but I have always found them distasteful and wanting in the ease of use of my Macs.
I have probably owned or used just about every Apple desktop computer since the Mac Plus. Every couple of years one had to upgrade in order to keep ahead of the curve. More powerful machines led to more powerful software applications. Better software made for more reliable usage. But in the office world, it was laser printer technology which sold everyone on the digital revolution. A laser print copy was better than a typewriter page. And a laser printer could print graphics on those sheets of paper. It was a boom to in-house printing solutions, and doom to most local ma and pa print shops.
The thing is that I still can use most of Mac computers in my collection. This site is still created on a late 1990s Snow White iMac. My old PowerComputing Tower running the MacOS still has certain fonts that are no longer available. I have two newer iMacs in order to speed up camcorder to iMovie production for videos I record for family events. It seems that I find a comfort zone in each of these Mac machines.
The overriding point for the past 30 years is that when I take a Mac out of its box, it works. It works well. And that cemented brand loyalty.
It is not to say that I cannot be critical of Apple at times. I dislike its push to cloud based services. I believe that its Pages software program is an actual downgrade from the old Appleworks. The latest desktop OSX is too iOS-ish which I find incapable to some of the basic things I have wanted from the very beginning: simple but elegant word processing, a reliable spreadsheet program that does not have a thousand pulldown options, and graphics program that integrates smoothly in all the other Apple software programs. I think Apple has dropped the ball in its graphics applications when desktop publishing became secondary to smartphone sales. But creative people are still holding out hope that Apple will revive its status in that regard, and not make prior content and files obsolete like old PCs.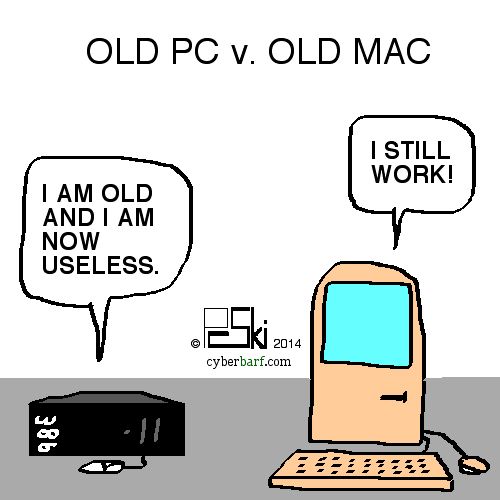 cyberbarf
barfette
AOL just recently laid off 90 percent of its Patch staff. Patch was supposed to be AOL's hyperlocal news sites. But it turned out to be an unprofitable foray into the local digital journalism landscape. With print newspapers failing with declining advertising revenues, hyperlocal sites could never drive enough traffic to support any consistent or high ad rates. The Internet web site business model of unique views or click-throughs or pop-ups does not work in the vast majority of test cases. Patch is another example of going digital does not mean getting an advertising sustained business.
barfette
In less than a month after touting the China Mobile smartphone deal, Wall Street brutally punished Apple's stock by dropping its share value by nearly 10 percent after record 1st Quarter earnings. Analysts said that even though Apple sold a record number of iPhones and iPads from last year's quarter, margins were lower and guidance weaker than expected. This is the problem with these analysts. When has any one of them ever made $13 billion in a 3 month period?!
barfette
The consensus is that America's schools are failing its students, especially in math and science. Administrators are now attempting to revamp the student curriculum by changing the core components of education. But critics call it social engineering. Parents call it the lack of basic fundamentals. A flashpoint has come in the form of handwriting in elementary schools. Schools no longer teach cursive. Why not? Educators are vague on their reasons, but it comes down to that they don't believe cursive handwriting is needed in modern society, just like memorizing math tables because everyone has access to a calculator. But cursive is what people use to SIGN documents - - - it is a personal form of identification. Historical documents were written in cursive. Why would schools not want students to learn a tool to read history? It seems what they don't teach in public schools anymore is common sense.
cyberbarf
EXAMINE THE NET WAY OF LIFE
cyberbarf
LIT FOR TWIT BARFERATURE
As we have mentioned before, the whole 140 character messaging limitation of Twitter has fostered the ill of people unable or unwilling to make comprehensive sentences for their text messages. Other critics have thought the issue of the character restriction has spawned a generation of grammerless acron-text smiths who have lost the art of word imagery. But it also made some scholars think they could tame the Twitter message beast by concentrating a story into 140 characters or less. Well, that is a challenge which we decided to take to this page. Instead of merely stringing words together, we decided to blend graphics to the twitterature structure to create the mosaic form of new expression we call BARFERATURE.
Our eighth BARFERATURE story board is called: WARM VACATION
THE TINGLE OF THE COOL OCEAN BREEZE ON HER WARM SUNLIT SKIN MADE HER FEEL YOUNG AGAIN.

THE FALL OF HER LIFE TURNED BACK TO HER HOT SPRING.
Digital Watercolor by Ski ©2014
cyberbarf
SMART BRA, BRO! WEARTECH
Last issue, we explained that Microsoft was attempting to get in the smartwear apparel field with the Smart Bra. It is going to be marketed toward young, active women who want to collect data such as cardio, pulse, workout stats, etc.
But it seems the Japanese are miles ahead of Microsoft in thinking about smart wear.
Apparently, in Asian cultures, it is still expected that young women will get married and become homemakers by the age of 30. After that, they are viewed as spinsters. One company has devised a "countdown clock" in women's lingerie which counts down the days until the woman wearer reaches her 30th birthday.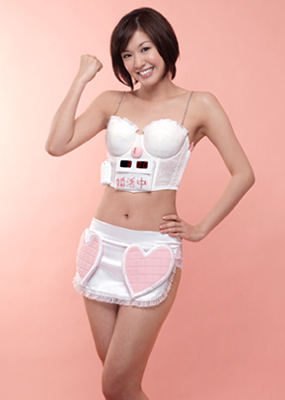 One could consider this a gag-gift, but Japan is having a serious population problem. Its current fertility rate is below 1.0 or replacement level. As the population ages, there are less and less young workers to help pay for the large government entitlement and social welfare programs. The government has been encouraging young people to get married and to have children. But in slow, stagnation economics of Japan since its boom and bust twenty years ago, there lacks the urgency to settle down. But even overpopulated China realizes that modern economies are based upon population growth. In the United States, it is estimated that it costs $250,000 to raise a child. That amount is a major economic engine. Children are key demographic for retailers. This may be why China is beginning to lessen restrictions on its one-child policy in order to keep domestic economic growth in tact.
In a slightly different vain, there is another Japanese company that is marketing what one could call the Love Bra. It is a bra that has a locking mechanism which can only be opened if the lady-wearer's heart rate and body temperature increases (as if she is in the throws of passion.) For the lonely Japanese male, this could be a bigger obstacle than finding a full time job.