cyberbarf
EXAMINE THE NET WAY OF LIFE
cyberbarf
NET NEUTRALITY NEUTERED COMMENTARY
The Federal Communications Commission (FCC) voted to implement new (but unfinished) regulations on the internet. It changed the definition of Internet business from exempt "informational" services to that of being a "common carrier" like a telephone utility.
This ruling has far reaching effects, most of which most advocates and opponents do not fully understand.
The concept of the Internet itself is nebulous. A person who logs onto their email or home web page is sending packets of bytes of instructions to a ISP network server to execute and re-distribute additional bytes across the global network. The Internet is really the communication protocols that allows access to information.
The irony is that the Internet lives in the already regulated telephone and cable systems, as it still takes a hard wire connection from your modem to your Internet service provider. The Internet is the traffic to the wires being the public transportation system, which is already a government regulated toll road.
The alleged problems that the FCC wants to address is consumer complaints about potential service providers throttling customer accounts (upload and download times), create premium fast lanes or discriminate against small business users in favor of large data hogs, such as streaming services.
Except, opponents of the new rules state that these allegations are illusory. The market forces of consumers and free Internet rights groups have kept abuses in check. For example, when carriers tried to corral smartphone users into burdensome data plans, the market pushed new competitors to knock down rates, and push for unlocking phones so consumers could find their own plans. Another example in the cable space was the Los Angeles Dodgers created their own program channel. However, when it demanded more than $3 per subscriber from operators as carry charges, the cable operators balked and refused to carry it. Adding three dollars or more to every cable bill would create a back lash from customers who may not want the Dodgers channel in their program guide. So, in LA in 2014, seventy-five percent of the Dodger fan base was without their baseball team telecasts. But this was a market reaction to an unreasonable business demand.
From a regulatory area, the Internet as a public forum is still the Wild West in cyberculture. There are very few laws, except private contracts (terms and conditions) that control most behavior since the Digital Millennium Copyright Act immunized ISPs against liability for content that ISPs host on their servers. (It is possible that the new FCC rules could be interpreted to be in conflict with DMCA ISP safe harbors since the FCC can regulate just about anything an ISP can do just as it can set rates for telephone operators, enjoin contract tying services or even prohibit certain content such as adult content hours on normal TV.)
It is the vague, limitless power that the FCC has seized with its new rule that has most freedom advocates on edge. The FCC chair indicated that he just wanted to push a few small rules, and not any heavy regulation such as setting service rates. But once the door has been pushed open, any regulation or restriction can be made by the FCC.
The traditional telephone carriers and cable operators have been the backbone for Internet service providers who connect their servers to the highway to push information from terminal to terminal. For the traditional common carriers, they now have been hit with a "second layer" of regulation and compliance. As such, they will challenge the FCC actions in federal court.
A few commentators immediately picked up on this government reality: once the government has the power to regulate, it then has the power to tax (under the guise to pay for the cost of regulation administration.) And once the taxing power has been imposed, it can be manipulated in order to mold public policy and content (as in the television child protection rules against explicit content during certain broadcast hours). Control of the medium can lead to the control of the content itself. Freedom advocates fear that this is the slippery slope that government intrusion has in a channel of commerce to limit or censor free speech.
But there is a more sinister applications that could arise under a new regulatory scheme. The FCC could regulate government "access" to networks and their security protocols in order to gain personal and private information without court warrants. There have been numerous reports that the government, including the NSA, have been trying to hack phone distribution channels without probable cause. The new FCC rules could bloom to create a back door authorization that violates the Constitution.
Another growing problem in the government regulatory system is the rise of crony capitalism. This is where a government agency grants a specific firm special rights in a certain field which stymies free competition. The FCC could implement new rules on broadband speeds to help streaming services at a cost prohibitive cost to the backbone providers. The FCC could insure data speed limits which could lead to civil remedies which would be helpful to the plaintiff's bar collect class action fees.
cyberbarf
iCAR MYTH ANALYSIS
Wall Street analysts have too much time on their hands. They like to spend public corporations treasuries on products that they'd like to see . . . but if they were such great ideas, why don't the analysts create them by themselves? Because making money is still very hard.
Apple has made a lot of money. It holds more than $172 billion in cash. That is why Wall Street continually barks about Apple spending its hoard on outlandish concepts or ideas.
The latest speculative rumor is that Apple is going to build its own automobile. The basis for the rumor was a modified van wandering off the Apple campus and that apparently Apple was hiring away Tesla Motors battery engineers. Of course, two different facts do not formulate into a real business plan. It sounds more like a crack pipe dream.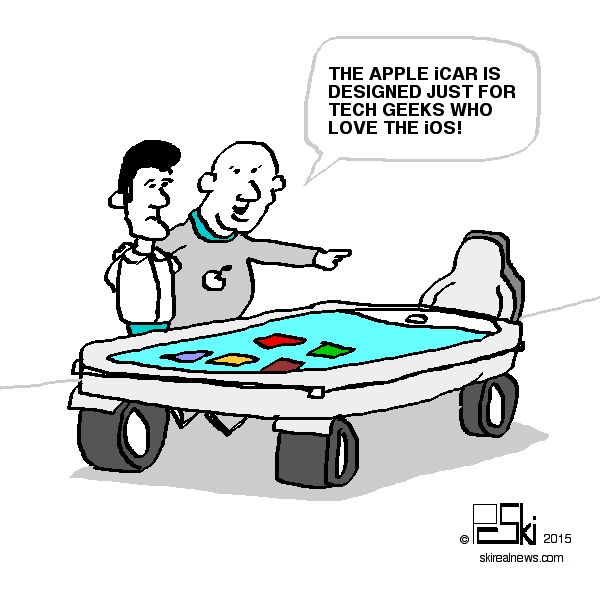 Apple is a computer hardware and software company. Most of its revenues are tied to the highly successful smartphone platform, which now is 92 percent of the profits in this space. The acquisition, distribution and storage of information is what has been driving Apple profits. Automotive manufacturing does not fit into this area of expertise.
Before General Motors went bankrupt, it was really a health care and benefits administrator who build vehicles on the side. Decades of expensive union contracts and foreign competition killed GM's business model as the foundational industrial power in the U.S.
To start up a new auto company takes massive capital expenses, a new concept and flawless execution. Elon Musk's Tesla Motors new vision of an electric car is an played as an environmentalist's wet dream, but Tesla continues to fail at meeting its manufacturing goals and profitability expectations. Electric cars are part of the cultural niche of a Hollywood fad in a global petro-based planet. (Even the concept of electricity being one of the most pollution causing industries does not seem to phase electric car proponents). Apple building an electric car will not save the planet, but drain its savings accounts.
Apple has enough legal and regulatory issues to add a new high cost, low return highly scrutinized auto division to its product lines.
But that does not mean that Apple cannot be a vendor in the automotive industry. What is at stake in modern cars? What are manufacturers trying to do to hook car buyers? The discourse usually involves the high tech aspect of electronics inside a vehicle; driver convenience aids are hot like interactive GPS maps. The following items are more probable than Apple building its own vehicles.
Control of the dashboard. There is plenty of space in vehicles for convenience technology. People have become dependent on digital maps that are standard fare on their smartphones. It is possible that Apple is trying to upgrade its mapping technology to appeal to dashboard integration. On the same dependency scale, drivers are subject to significant citation fines for handling a phone or texting while driving their car. The hands free phone connection which is part of the dash controls is a valuable feature for phone addicts, like salesmen who live in their cars while they make their rounds. If Apple can get its iPhone to be the new "base station dock" in cars, then a person will have all their contacts, phone numbers, music and apps at their finger tips (or with the new Mac OS, voice command).
Being a Green Company. Tim Cook has preached that corporations should be respectful to the environment. Apple recently committed almost a billion dollars on solar technology to use at its facilities. Apple has tried to push current technology into new innovative uses. As such, Apple could become an auto supplier of unique, special car parts:
Glass. Apple's new corporate HQ is going to have cutting edge curved glass panels. Since it is on the forefront of new glass technology (including high impact and touch sensitive phone screens), it is probable that Apple could expand its knowledge base to make new curved windshields (with heads up displays) or entertainment console touch screens.
Entertainment. With iTunes and Beats, Apple may be in a position to start a personalized alternative to current radio stations. Apple could try to become the radio-music version of Netflix. One could dock their phone into a dash dock, then the phone could link to the driver's (or passenger's) iCloud account to stream their playlists to the vehicle speakers.
Battery Technology. Batteries are toxic. It is the nature of the science. Even though lead acid batteries have been replaced by lithium ion batteries, there still are issues with batteries - - - cost, efficiency and stability. There is market demand for someone to build "a better battery." Apple has always tried to improve its product components, including battery technology (as one of the selling features of products is the elusive battery life statistics.)
Design Consultant. Apple continually wins design awards for its products. Early automotive manufacturers only built the vehicle platforms (chassis, engine, drive train) and the customer then took the base frame to a coach builder to complete the body and interior. One famous coach builder was Fisher, who later got bought by GM when car makers decided to integrate and sell complete cars to the general public. Early automotives were luxury items that sophisticated purchasers had some control over their final assembly. Today, car manufacturers, in order to control costs, use feature packages and standard platforms when they sell their cars to the public. There are very few options.
One criticism of modern car makers is that most of the vehicles look similar. There are no true brand identifiers to the casual car consumer. This is because most design schools use the same basic CAD programs so a style is hard wired in every design team. Prior art was that car bodies were sculpted in clay in full size models, which was later transferred into machine dyes to cast parts such as fenders, hoods, roofs, etc.
Since Apple has learned to tap the interactive dynamics and minimal design cache to win loyal fan base. Apple could leash its expertise in designing exterior car bodies to the look and feel of car interiors. With car interiors, there may be a "better way" to interact with dash controls. Apple has a good track record for finding new solutions to old technologies.
There are many more realistic alternatives than Apple jumping off a canyon cliff to build their own iCar vehicle.